waterford
NLWS staff has released a single registration form for the 2021 season. This new streamlined registration form combines the driver registration, number registration and rookie of the year forms into one single form. Key point for this years registration: The registration form is due by 3-31-2021 along with a fee of $40. Registration forms received after 3-31-21 will have a fee of $50. This year all race payouts are made out to the owner. Checks can be picked up on [...]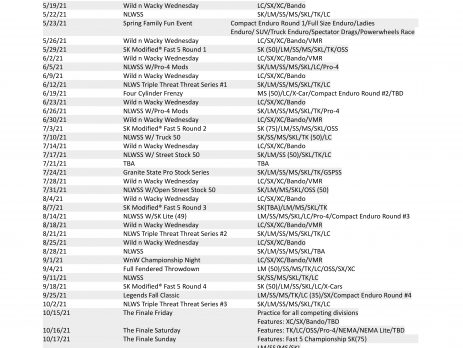 waterford
1-2-21 For Immediate Release: New London Waterford Speedbowl releases their 2021 Event Schedule. The Saturday Championship Race Season begins on May 8th with the traditional Blast-Off 2021. Saturday racing continues into October ending on the weekend of October 15th-17th with The Finale. Highlights of the schedule include a new SK® Modified Fast Five Series. Drivers who compete in each of the extra distance races will earn extra money, and points will be accumulated to crown a champion at the end of [...]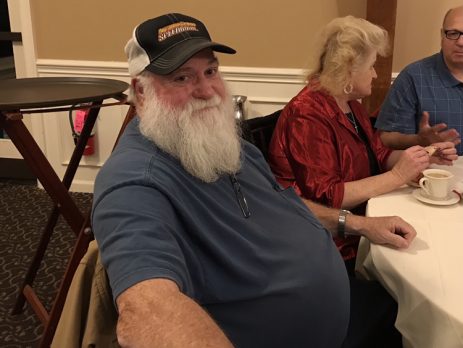 waterford
We are very sad to hear of the passing of one of our Speedbowl Family. Don Caddick was a guy who dedicated every spare moment to the race track, always with a smile and a kind word. Don worked at the Bowl and was also a car owner for many years. Caddick Trucking could be seen on both Randy and Brad's cars, and later on, grandson Cory's cars. Don was a man of pristine reputation and was extremely well [...]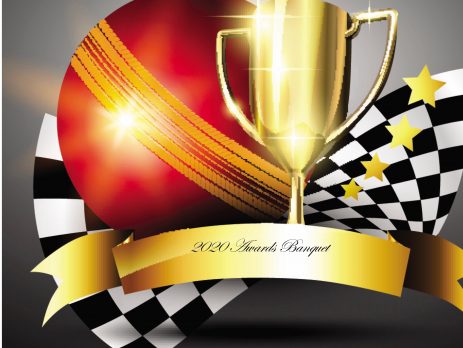 waterford
Usually during the holiday season, the buzz is about the upcoming Speedbowl awards banquet. The staff is normally busy calling race teams and finalizing last minute details. 2020 was a strange year as we experienced delayed openings of racetracks, minimal fans allowed in the grandstands with everyone wearing masks and practicing social distancing. It is no surprise that we had to rethink our winter awards banquet. We want everyone to know that we are still planning on celebrating the [...]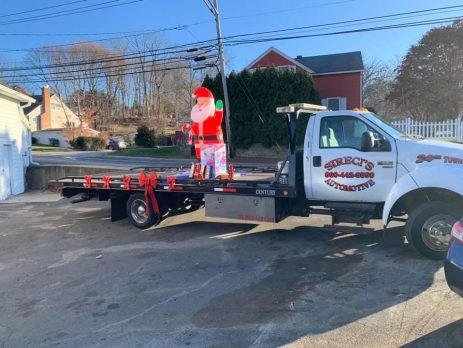 waterford
Hello Speedbowl family and friends! It is that time of year to spread some holiday cheer for those less fortunate than ourselves. Together let's support Mike Serluca, Linda Cote and John Sireci to bring smiles to children's faces on Christmas morning. This Saturday, December 5th! Let's Fill This Flatbed! Bring an unwrapped toy to Sireci's Automotive this Saturday from 9-1 and let's get this thing full of toys! All Covid safety protocols in place! All toys will be donated [...]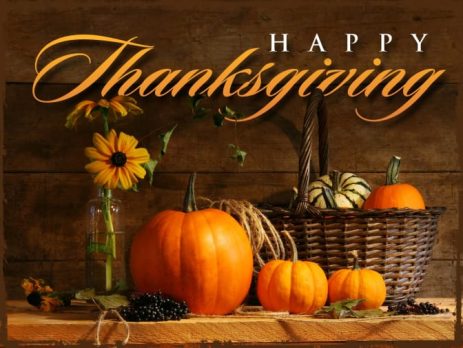 waterford
Here is wishing all our Speedbowl friends and family a safe and wonderful Thanksgiving.
waterford
Due to the increase of Covid cases in our state and specifically in New London County, we will not be having our Trunk or Treat part of Smacktoberfest this year. All other Smacktoberfest events are still on schedule. Be sure to wear your favorite costume for the costume contest. Dry off those Power Wheels for the big Power Wheel race! See you all Saturday for a fun filled day of Motorsports!! Updated schedule will be posted shortly on the [...]
waterford
Smacktoberfest on Halloween and a full moon! This event is shaping up to be spectacular! Power Wheel Drivers are dusting off and charging their batteries for the Power Wheel Race with trophies awarded for first, second and third place being awarded. There will be a trackside Trunk or Treat at 11:30 am- see the race cars up close and personal and meet the drivers. For those that love Halloween costumes, we will have a youth and adult Costume contest. [...]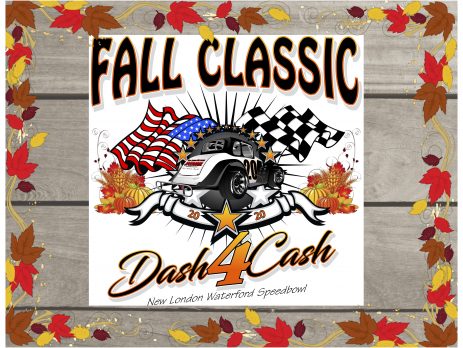 waterford
To pre-register for the Fall Classic Legend Race, go to the menu bar on the home page and select the Forms tab. Then select Fall Classic Pre-Registration Form. Pre-registration will automatically pop up for you to fill in then submit the form. You will pay $50 registration fee the day of the event at the pit window. All fees will need to be paid in cash.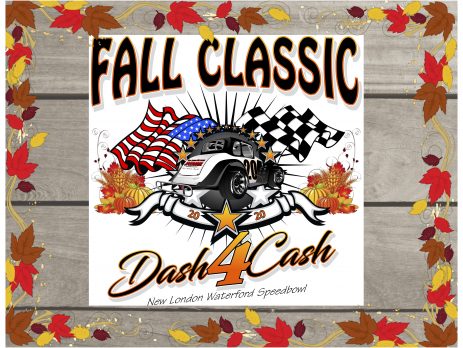 waterford
The Fall Classic- Dash "4" Cash is scheduled for Saturday October 17th with extended laps and a full field payout. Top spot is worth $2,500, P2 is $1,250 and P3 is $1,000. 2020 Legend Car Fall Classic New London Waterford Speedbowl follows all INEX Legend Car Rules The Current INEX Hoosier Legend Car Tire is the only approved tire at the New London Waterford Speedbowl. Tires must durometer a minimum of 61 or higher. Registration Fee- 50.00 per driver. Pay Cash at the pit [...]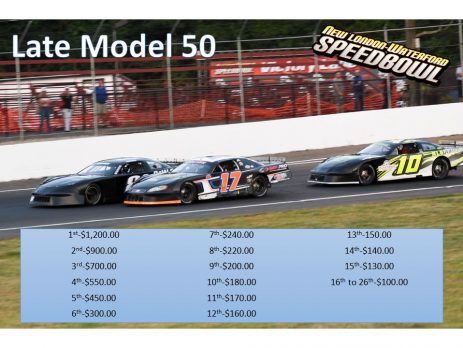 waterford
Saturday October 3rd could be the day that one talented Late Model driver, with a little luck, could take home $1,200 for winning the Late Model 50 Lap Special and a full field payout. In addition to the Late Models, we will have the SK Modifieds®, SK Lites, Mini-Stocks, Sportsman, Open Street Stocks, Legend Cars, and Speedbowl Trucks. Pits open at 11:00 am Practice starts at 12:30 pm Grandstands open at 1:00 pm Racing begins at 3:00 pm