McDonald Scores Big in X-Cars; Moran Jr. with First Super X Win in 15 Years
Mitch Bombard
WATERFORD – Greg Moran Jr. launched from the pole in the Super X-Cars, setting the pace for the entire event. Behind him, Ray Reed and Marc Shafer went at it for the runner up position, making it look like it was 2010 all over again. A few minor spins would slow the pace over the 25 lap event, but it didn't effect Moran as he would score his first win since his return to competition, and his first since 2008.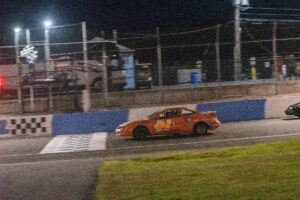 CP Burdick led the X-Car field to green but was quickly overtaken by Ryan Magliano.  By the halfway point, Chuck McDonald overtook Magliano and proceeded to pull away from the field. The race went mostly clean and green until 9 laps on the board for a simple spin.  That's when the ease of the event came to an end. McDonald got the advantage on the restart leaving Dylan Cabral and Magliano battling behind him. One lap later, a calm spin in turn 1 led to calamity in turn 4 when several cars made hard contact with the outside wall. When racing resumed, Magliano gave McDonald a run for his money with less than 4 to go. McDonald battled back in the last 3 laps to score his first on-track victory of his career.
In the 25-lap feature, Shileigh Martinez led flag-to-flag for her first INEX Legends Car win at New London-Waterford Speedbowl. Shileigh Martinez started alongside the No. 02 of Dylan Cote. She took the lead from the pole. Riley Paul moved into second past Cote while Zachary Martinez moved into third. Points leader Isaiah Newcomb passed Cote for fourth. Zachary Martinez jumped into second place, keeping pace with Shileigh Martinez. The top four cars broke away from the field, while Newcomb looked for a way by Paul. Newcomb passed for third place with four laps left when Paul caught a lapped car. Shileigh Martinez led a Brandon Martinez Racing podium over her brother Zachary Martinez of N. Kingstown, RI, and Isaiah Newcomb of Plymouth, MA. Riley Paul of Ledyard, CT, and Dylan Cote of Griswold, CT rounded out the top five.
Milania Shilosky extends her win streak to 8, leading every lap in order to win. Behind her, Allyha DeSomma, Connor Doyon, and Landon Coen would duke it out for the rest of the podium.
RESULTS
X-Cars (25 Laps): 1. 01-Chuck McDonald[4]; 2. 02-Ryan Magliano[3]; 3. 67-Wade Robbins[6]; 4. 7X-David Gargaro Jr[7]; 5. 45CT-Josh Piper[12]; 6. 1-CP Burdick[1]; 7. 00-Ryan Bannister[16]; 8. 42-Chris Palamar[8]; 9. 11-Tim Burgess[17]; 10. 71-LJ Alaimo[5]; 11. 56X-Gregg Sajkowicz[13]; 12. 58-Jamie Ventura[11]; 13. 17-Talyn Walsh[18]; 14. 19-Dylan Cabral[9]; 15. 47-Grant Spaulding[14]; 16. 31-Matthew Tumolo[15]; 17. 57-Corey Caddick[10]; 18. 7-James Trask[2]; 19. (DNS) 01CT-Keith McDonald; 20. (DNS) 23-Brandon Lindahl
Super X-Cars (25 Laps): 1. 64-Greg Moran Jr[3]; 2. 87-Raymond Reed[6]; 3. 58-Marc Shafer[4]; 4. 43-William Rheaume[8]; 5. 88-Ben Castro[9]; 6. 24-Sean Skinner[13]; 7. 10-Mitch Bombard[7]; 8. 31-PJ Childs[11]; 9. 82-John Nash[5]; 10. 20-Patrick Donnellan[2]; 11. 5-John Nunes[12]; 12. 2-Caitlyn Desomma[1]; 13. 30-Pipper Beal[10]; 14. 41-Nick Ballard[14]; 15. 99CT-Nathan Pratt[15]; 16. 33-Ray Phillips[17]; 17. (DNS) 38-Donald "Bud" Kuehne
INEX Legend Cars (25 Laps): 1. 33-Shileigh Martinez[1]; 2. 14Z-Zachary Martinez[5]; 3. 22-Isaiah Newcomb[4]; 4. 91-Riley Paul[3]; 5. 02-Dylan Cote[2]; 6. 14X-Leo Rossi[6]; 7. 79-Adrianna Kimmer[7]; 8. 12-Mark Massirio[9]; 9. 26-Sydney Cook[8]
INEX Bandoleros (20 Laps): 1. 99-Milania Shilosky[2]; 2. 10-Allyha Desomma[1]; 3. 19-Connor Doyon[3]; 4. 9CT-Landon Coen[4]
Images by Passing Bird Photography
Content provided by Yankeeracer.com