Helpful tips to make your visit to the Speedbowl enjoyable:
Although we require mufflers on racecars to compete, races are noisy and proper ear protection is suggested, especially for children. Headphones or earplugs may come in handy!
Pets are not permitted in the facility at any time, service animals only.
Shirt and shoes are required for admission.
At no time shall access to the racing surface be permitted, unless otherwise approved by a New London-Waterford Speedbowl official.
Smoking is not permitted in the grandstands. For our guests who wish to smoke, there are designated smoking areas provided for your pleasure.
How much does it cost to get in?
Check our Schedule…
– For Saturday events labeled "Speedbowl Saturday Nights" general admission adult tickets are $22, youths ages 6-12 are $12, & youths ages 5 and under are free.
– For Wednesday events labeled "Wild 'n Wacky Wednesdays" general admission tickets are $12 & youths ages 8 and under are free.
– Events not labeled "Speedbowl Saturday Nights" or "Wild 'n Wacky Wednesdays" may be special events with increased prices.
Where do I park?
New London-Waterford Speedbowl offers acres of free parking right at our racetrack. Handicap accessible parking is available up close to the ticket booth in the fully paved parking lot. Proper permits are required to park in this area. Overnight parking  is allowed in the area shown here: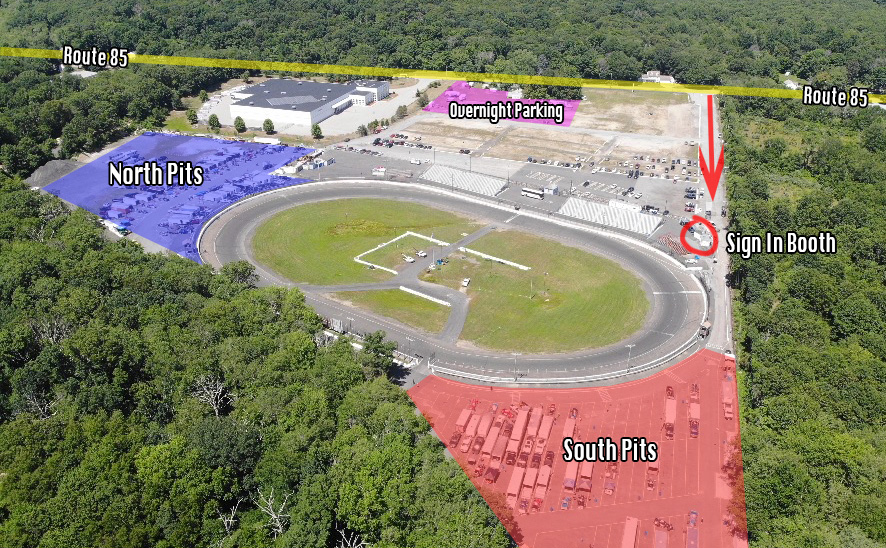 Where should I sit to watch the races?
The Speedbowl is general admission seating, so feel free to pick your favorite vantage point and enjoy! Every seat enables you to see the entire racing surface.
Can I enter the pit area?
Guest who wish to enter the Pit Area must sign the New London-Waterford Speedbowl pit waiver and pay the pit entrance fee at the Pit Sign In Window. Minors are allowed to enter the pit area but a parent must sign a minor release form, sign a pit waiver, and pay the pit entrance fee. Minors must be accompanied by an adult at all times.
How long do events usually last?
Detailed schedules are released one week before an upcoming event.
Can I bring in a cooler?
Yes you may bring in a cooler as long as it does not contain any alcoholic beverages or glass containers. The cooler may not be larger than 14" (small Playmate cooler). Speedbowl Management reserves the right to search your cooler upon entry or at any time during your visit.
What does the Speedbowl offer for food and beverage?
We will have various privately owned food trucks available containing a variety of food and drink for your enjoyment.
Is re-entry permitted?
Re-entry is permitted. Keep your ticket stub and receive a hand stamp at the main gate by our guest services team who will authorize re-entry and answer any questions you may have upon exit.
Can I bring my own alcohol with me to the Speedbowl?
No, you may not bring any alcohol with you to events held on the Speedbowl property. This includes the storing or consumption of alcohol in the Pit Area, Grandstands, midway, bathrooms or parking area.
Can I pre-purchase tickets?
Yes, you may pre-purchase in bulk for events. We do not offer season passes at this time. For individual events, we offer advanced ticket orders for large groups or corporate events. Please contact us for more details at info@speedbowlct.com.
I will be going to the Speedbowl for the first time soon, what should I bring/expect?
Expect having a great experience. We recommend arriving about 30 minutes before the racing is set to begin, so be sure to check the schedule of events on the web site. Arriving 30 minutes before racing will ensure you ample time to park, purchase tickets at the box office, and to find a seat. Stop by the midway to get some refreshments. Our announcing team will keep you updated with the schedule of events for the evening. The seating faces southwest, so be sure to bring sunglasses for the first part of the evening as the sun will face you as it sets. It can often get much cooler out after sundown, so be sure to have a sweatshirt or jacket handy. The stands have been recently renovated to new aluminum benches which don't bother most, but some do prefer to bring a cushion or lay a blanket down for more comfort. "Rest Back" stadium seating is available for an additional rental fee.
How can I listen to the track announcers?
We broadcast the track PA on 93.3 FM radio.
Can I use a credit card at the Speedbowl?
Credit cards are accepted at both the main ticket office and the pit window. Food vendors may accept card if they're equipped.
---