Canfield Dominates Soup Bowl; Flannery Doubles up on CWPM Night
Mitch Bombard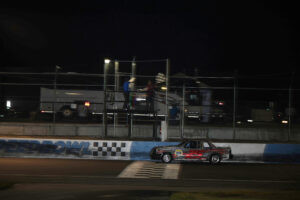 WATERFORD – Twenty-Seven Mini Stocks and a grandstand area packed full of fans came out to enjoy the Soup Bowl 50 presented by CWPM Waste Removal and Recycling, in memory of long time owner and driver, Jeff "Soup" Civardi. Calamity on the initial lap ended the night as soon as it began for the most recent Thompson Speedway winner Kevin Moore and Stacy Zentek. From then on, it was 50 laps contested clean and green putting on a show worthy of such an event. Bill Sylvia took the lead initially but Charles Canfield found himself in the lead on lap 4, where he would remain for the remainder of the event. While Sylvia and David Dorr slipped outside of the top 5, Chris Garside, John Bavolacco, and Ray Christian III  worked their way into it. Lapped traffic around the halfway point started making navigation important, as Christian rocketed into second over Garside with 8 laps to go. By this point, Canfield had been maintaining a straightaway lead for a majority of the race and wouldn't be denied the win.
With his perseverance the past few weeks, Chase Cook was able to take advantage of the pole position and get out to the early lead in SK Modified® competition, but it didn't last too long as last weeks winner Anthony Flannery shot out front taking Todd Owen by with him. Cook would slip into third as a strong Ryan Morgan began chipping away on his back bumper. Flannery's car would act up under caution on lap 13 nearly relegating him to the pits, but he was able to keep it rolling in the right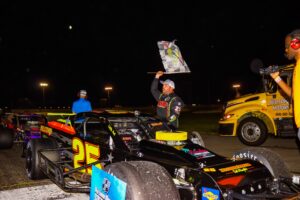 direction and nail a few more restarts over Owen to secure back to back wins. Morgan reeled in Owen to attempt to battle for the runner up position but ran out of laps to make the move.
PJ Evans took the early lead in the Late Models but it was the CWPM sponsored car of Jason Palmer who quickly took control of the race. 10 laps in Evans went on the offensive trying to battle back for the top spot, when Brody Monahan threw his hat into the ring. Just past halfway Monahan would clear Evans and get to work on Palmer getting so far as side-by-side, but not being able to close out the pass. Palmer would score his 98th career win at the facility.
The Street Stocks kicked off the evening with Austin Flanagan having an opportunity to lead some laps in his rookie season. Ed Gertsch Jr wasted no time making his moves through the field as he would find himself leading by lap 5 until the 9 of Shawn Gaedeke got hooked to Gertsch's rear quarter panel causing the first yellow flag of the night. On the restart, Al Stone III would continue his hot streak and rocket out to the lead with the race then being for second place. Aaron Plemons and Tony Macrino got together in the battle for the runner up spot with 2 laps on the board, sending them both to the rear and allowing Jaysin Beal to control second. A mad dash on the last lap allowed Macrino to break back into the top 5, Stone to score back to back wins, and Charles Canfield with a surprise podium finish.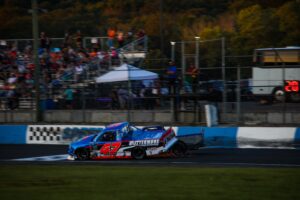 Ed Ryan Jr put a hurting on the Truck field, getting out to an early lead on the initial start with Brody Monahan and Kyle Gero slicing and dicing their way forward. On lap 5, Todd Taylor put on his best gymnastics routine, sticking the landing over top of Jake Coutu re-racking the field. Ryan would ace the restart over Monahan allowing Gero to briefly take over the second spot. With 9 laps to go, Monahan took full command of second and began chipping away at Ryan's near straightaway lead, but ran out of time to make a move.
Joshua Martin won the Compact Enduro after briefly losing the lead on the final lap.
Two weeks remain for Wild 'n Wacky Wednesday, this week featuring the American Vintage Modifieds. Then for Speedbowl Saturday Nights, a 5 division program featuring SK Modifieds®, Late Models, SK Lights, Mini Stocks, and double features for INEX Legend Cars. For the most up to date information, visit us at www.SpeedbowlCT.com, The New London-Waterford Speedbowl on Facebook, or @SpeedbowlCT on Twitter and Instagram.
Results
SK Modifieds® (35 Laps): 1. 25-Anthony Flannery[4]; 2. 81-Todd Owen[5]; 3. 8CT-Ryan Morgan[6]; 4. 6CT-Cory DiMatteo[8]; 5. 11CT-Eric Berndt[3]; 6. 7-Jonathan Puleo[11]; 7. 51-Rob Janovic Jr[2]; 8. 9-Paul Buzel[9]; 9. 09FL-Kyle James[10]; 10. 22RI-Carl Kivisto[12]; 11. 8-Chase Cook[1]; 12. 4-Jeff Malave[7]
Late Models (30 Laps): 1. 17-Jason Palmer[5]; 2. 31-Brody Monahan[4]; 3. 12CT-PJ Evans[3]; 4. 2-Derryck Anderson Jr[2]; 5. 1-Corey Fanning[7]; 6. 78-Emma Monahan[1]; 7. 50RI-Michael Benevides[8]; 8. 0-Joey LeMay[10]; 9. 12RI-Brandon Martinez[6]; 10. 94CT-Charles Bailey III[9]
Street Stocks (25 Laps): 1. 12-Al Stone III[7]; 2. 30-Jaysin Beal[4]; 3. 52-Charles Canfield[13]; 4. 74-Joseph Arena[2]; 5. 13-Tony Macrino[6]; 6. 67-Aaron Plemons[8]; 7. 21-Tom Musante[15]; 8. 80-Norm Root III[11]; 9. 14-Steve Barrett[10]; 10. 9-Shawn Gaedeke[5]; 11. 83-Ed Gertsch Jr[3]; 12. 6-Scott Sousa[14]; 13. 56-Ike Chima[12]; 14. 28-Austin Flanagan[1]; 15. 13RI-Clay Petschke[9]
Trucks (25 Laps): 1. 12-Ed Ryan Jr[2]; 2. 31-Brody Monahan[4]; 3. 19CT-Kyle Gero[3]; 4. 47-Todd Taylor[13]; 5. 30-Charles Beal[5]; 6. 84JR-Brad Strickland[1]; 7. 14-Damian Palardy[6]; 8. 94-Anthony Naglieri[9]; 9. 52-Mercedes Caron[11]; 10. 52CT-Sean Caron[7]; 11. 90-Allen Coates Jr[8]; 12. 33-Jake Coutu[10]; 13. 11-Ken Cassidy Jr[12]
Mini Stocks Soup Bowl (50 Laps): 1. 25-Charles Canfield[3]; 2. 83-Christopher Garside[4]; 3. 42-John Bavolacco[6]; 4. 88-Bill Sylvia[1]; 5. 1CT-Jared Roy[5]; 6. 20-Joe Bavolacco[10]; 7. 22CT-Brad Caddick[17]; 8. 97-Dave Trudeau[9]; 9. 81CT-Ken Cassidy Jr[14]; 10. 6-Nicholas Pappacoda[15]; 11. 16-Tim Dorr[24]; 12. 78-Evan Bourgerois[18]; 13. 28-Erica Canfield[16]; 14. 94-Douglas Curry[13]; 15. 70-Raymond Herman Sr[23]; 16. 11-Jason Kokoszka[19]; 17. 7-Kyle Wing[8]; 18. 73-Eric Julian[20]; 19. 12-Aiden Sullivan[22]; 20. 01-Chuck McDonald[25]; 21. 22-Charles Beal[7]; 22. 82-Kevin Moore[11]; 23. 81-Stacey Zentek[21]; 24. (DNS) 72-David Lee; 25. (DNS) 91-Courtland Herman; 26. (DQ) 31-Ray Christian III[12]; 27. (DQ) 19-David Dorr[2]
Compact Enduro (50 Laps): 1. 6-Joshua Martin[6]; 2. 12-Robert Jones[17]; 3. 17L-Larry Darling[24]; 4. 28-Reginald Valley[22]; 5. 7X-Kyle Fontaine[19]; 6. 46-John Curry Jr[10]; 7. 86-Kyle Corey[34]; 8. 77-Brandon Bastien[18]; 9. 97-Andrew Culley[14]; 10. 01-Andrew Cooper[2]; 11. 42-Justin Whitney[21]; 12. 12CT-Sean Olden[25]; 13. 18-Ethan Russell[3]; 14. 113-Bill Davis[15]; 15. 52X-Olivia Beebe[28]; 16. 3-Dave MacIntosh[27]; 17. 72-Brian Winters[12]; 18. 29-Justin Ducharme[11]; 19. 27-Doug Thurston[7]; 20. 420-John Kazersky[20]; 21. 18X-Wesley Stedt[13]; 22. 7-Brandon Etheridge[5]; 23. 88-Jesse Whitney[9]; 24. 42X-Eric Williams Jr[30]; 25. 87X-Ethan Roberge[33]; 26. 71-Justyn Prevost[16]; 27. 69X-William Blair[26]; 28. 5-Joshua Prevost[32]; 29. 09-Anthony Pascale[4]; 30. 87-Albert Corey IV[1]; 31. 21-Brayden Aitken[29]; 32. 67CT-Glen Marion Jr[31]; 33. (DNS) 03-Daniel Morris; 34. (DQ) 223-Kristaps Berzins[8]
Photos by TK Race Photo